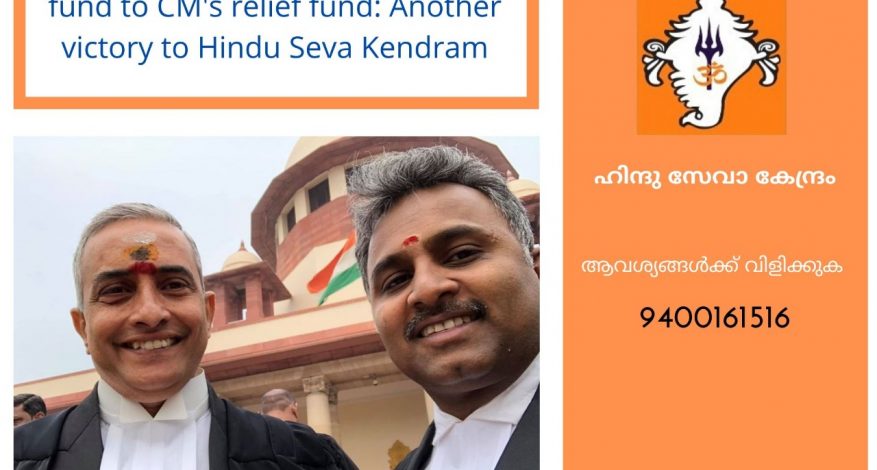 News
HC stays donation of Devaswom fund to CM's relief fund: Another victory to Hindu Seva Kendram
Kerala High Court today stayed notification of the Malabar Devaswom Board, which compulsorily demands donation of Devaswom fund and temples employees salary to the Chief Minister's Relief Fund.The stay was based on a case filed by the Hindu Seva Kendram in the Kerala High Court challenging the order of the Malabar Devaswom Board. Advocate Krishnaraj and Adv Pratheesh Viswanath filed a petition in the HC on behalf of the organisation.
The call to contribute Devaswom funds and salaries of temple employees under the Malabar Devaswom Board into the Chief Minister's Relief Fund will affect the survival of Hindu temples and its staff at this time of crisis. Both the Devaswom Board and the Government are pursuing policies to ruin the Hindu community and with a motive to reaping the revenue from Hindu temples. They are practicing such acts in view that there is no one to question it. In the previous events also, Hindu Seva Kendram has taken actions against such injustices done to the Hindu society. Recently, Hindu Seva Kendram has moved against the Devaswom Board for leasing out the lands owned by Hindu temples.
Hindu Seva Kendram reiterated that it will continue to resist any and all problems faced by the Hindu society. Join hands with Hindu Seva Kendram and continue your unstinted support.