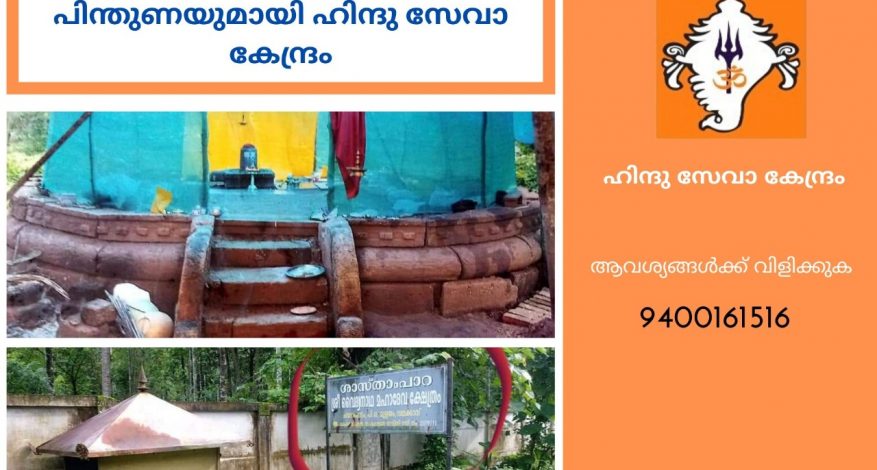 News
Hindu Seva Kendram extends support to end encroachment on ancient temple land
Hindu Seva Kendram has taken strong stand against encroachment of centuries-old Sasthampara Sri Vaidyanatha Mahadeva Hindu temple's land. According to the Archaeological Department, the oldest temple having 6.5 acres in survey number 536 of the Peechi Valakkavu Mulayam village is located in Thrissur district.
As per revenue records the land is marked as temple land is now in the possession of Rappai, Johnny, Antony and Kochappan of Christian Community and entry has been denied to the Hindus. They obtained pattaya for the entire land, including the dilapidated temple. Religious rituals were performed till the recent times, however no one has access now.
Hindu Seva Kendram has announced its support for Advocate Krishnaraj, who is fighting legally against encroachment of this temple.
Adv. Pratheesh Vishwanath along with Adv. Krishnaraj has been taking legal actions to end the unjust encroachment on temple lands and reclaim it. Hindu Seva Kendram had earlier informed that legal action would be taken to reclaim the Thatthampalli Devi temple, the Chalakkudy Mannupuram Kirathurmurthy temple and the Palluruthy Azhakiyakav Devi Temple land which the CPM is trying to encroach upon. In the previous events also, Hindu Seva Kendram had questioned the decisions of the Devaswom Board and the intervention of other forces against the will of the devotees in such matters.
You may contact us to report if temple land encroachments are taking place in your area or knowledge.
Hindu Seva Kendram 9400161516